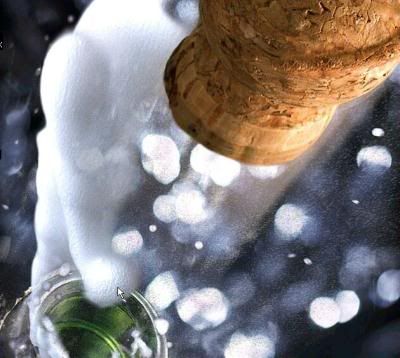 So, for our new year's celebration, we opted to stay in….where it's safer and more affordable. I made a special trip to central market yesterday to acquire tasty indulgences. We'll be having a red and yellow vine ripened tomato bruschetta with fresh basil and garlic on toasted bagette for a starter. Dinner is a bit surf and turf: stuffed crab shells and a shared New York strip (both from their phenomenal fresh meats case!) with
roasted fingerling potatoes
. (Thanks for the idea Celia!) I took the easy way out for dessert and picked up one of our favorites from the bakery: crème brulee! Yeah, I know I should learn to make it, but then I'd make it far too often! I've already gained two pounds this holiday season, I don't need to learn to make crème brulee and add to that number exponentially! After all, I only have seven weeks to lose this plus the bit of pudge I was trying to rid myself of in the first place! Oh! And the cocktail for the evening….another thanks to Celia. I'm making the
Canton Royale
she posted near thanksgiving with the Prosecco that was given to us as an engagement gift! My mouth is already watering.
But first, we are attending my baby cousin's wedding this afternoon. I'll try my best to get photos. I know I am wretched at that!
Have a safe and happy new year, all!
Photo from Photobucket.